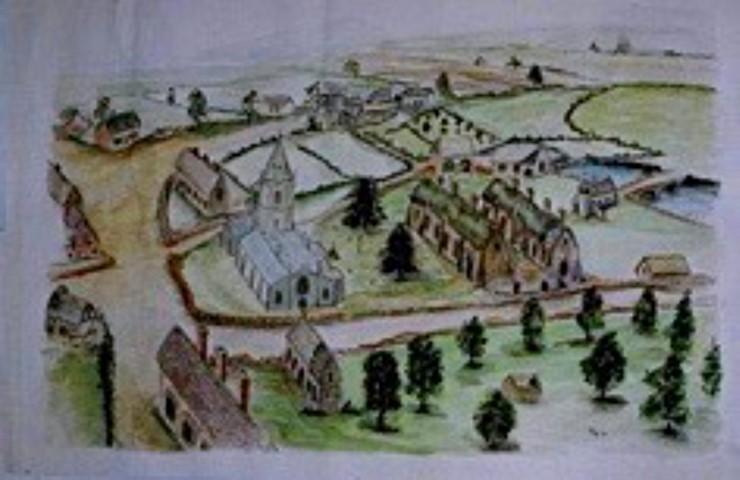 St Bartholomew's, Tong
Discovering Tong
Research Resources
Useful Sources for Research
Here are some references to some web sites and other sources relating to Tong and the subjects covered by the book. Please note however that most of the sources of information used in the book are not available online.
Historical Documents relating to Tong
Roman Camps ➚ at Burlington on the northern edge of the parish pushes the history back to Roman times.
Domesday Book Entry ➚ of 1086 lists the village as 'Tuange'.
Tong Castle Hill ➚ confusingly sited in Tong Norton rather than the present site of Tong Castle was a short-lived Norman fortified motte and bailey construction probably of timber rather than stone.
Victoria County History ➚ entry for Tong College.
An ancient suit of armour ➚ believed to been at Tong Castle for many years. Of 'asiatic' design possibly dating from the twelfth century.
The National Archives ➚ holds the census and family records (births, marriages and deaths) for the whole UK including Tong.
Gerard de Lairesse ➚'s painting "Achilles discovered among the daughters of Lycomedes" believed to have hung in George Durant's Castle.
Carracci – The Montalto Madonna ➚ another valuable painting believed to have hung in George Durant's Castle.
Parish Registers ➚ has most of the births, deaths and marriage records for Tong up to about 1810.
Tong Castle Gates were moved from Tong in 1977 when the M54 was built and are now at Marston Road, Blakenhall, Wolverhampton.
Early Photographs ➚ of Tong including the old Priory, Post Office and Castle.
Statistical Census ➚ for 2001 about Tong.
Background References
Aerial Photograph ➚ of Tong on Bing maps.
Watling Street ➚ which is the northern boundary of the parish of Tong formed the ancient border between Scandinavian Danelaw and Anglo-Saxon Wessex in the 9th and 10th centuries.
Earl of Morcar ➚ who was Lord of Tong just prior to the Norman conquest.
Shottesbrooke ➚ the seat of the Trussells who married into the Pembrugge and formed the model for the creation of the Collegiate Church at Tong between 1405 and 1410. See also Shottesbrooke in Victoria County History ➚.
William Coffin ➚ was the second husband of Margaret Dymock (after the death of hr first husband Sir Richard Vernon) a very significant player at the court of Henry VIII.
The Vernon Chantry ➚ has clear parallels with the chapel of Henry VII in Westinster Abbey.
Lady Wortley-Montague ➚ the famous daughter of Evelyn Pierrepont 1st Duke of Kingston was an important figure in Georgian society.
Location of Childwick ➚ the Hertfordshire seat of the Durants. A brief description of the Childwickbury Estate ➚ is also available, the previous owner was the widow of Stanley Kubrick ➚ the world famous film director and is the place where he spent the last ten years of his very productive life.
Local villages ➚ in the area include Blymhill, Gnosall, Haughton, Sheriffhales.
County Directories ➚ are a useful source of information from the nineteenth century onwards. They list the major tradesmen (they were the Yellow Pages of their time).
Family Trees
Belmeis family ➚ came from Normandy and were Lords of Tong in the twelfth century. See also Alice de Belmeis ➚ and Richard de Belmeis ➚.
Broase family ➚ another Norman family, briefly held Tong in the thirteenth century. They were Lords of the Marches and married into the de Harcourt family with a particularly brutal reputation.
la Zouche family ➚came from Brittany and were also Lords of Tong in the twelfth century (as well as Ashby de la Zouche).
de Harcourt family ➚ were also from Normandy and became Lords of Tong when William de Harcourt married Alice la Zouche. Their family seat is at Stanton Harcourt ➚.
Pembrugge family ➚ married into the Ludlow, Harcourt, Lingen and la Zouche families.
Trussell family ➚ married into the Pembrugge family.
Lingen family ➚, a Herefordshire family, claim fame because Dame Isabella Pembrugge of Tong, the foundress of the Church and College was a Lingen.
Vernon family ➚ who were Lords of Tong in the fifteenth and sixteenth centuries.
Harries family ➚, an old Shropshire family, were Lords of Tong in the early sixteenth century.
Stanley family ➚ from Lancashire with the Earl of Derby at their head inherited Tong from the Vernons.
Manners family ➚ married into the Vernon family and are the Dukes of Rutland ➚ with seats at Haddon Hall and Belvoir Castle.
Talbot family ➚ married into the Vernon and Pierrepont families. They are Earls of Talbot and Earls of Shrewsbury ➚ and one of the most important local families.
Pierrepont family ➚ were Lords of Tong for one hundred years up to 1765. Became Dukes of Kingston and the main seat was at Thoresby Hall ➚ in Nottinghamshire.
Books relating to Tong
King Charles II ➚ at Hubbal Grange from "Boscobel or, the Royal Oak" by William Harrison Ainsworth.
P.G. Wodehouse may have had Tong Castle in mind when he devised Blandings Castle.
National Archive
Searches have produced the following extensive set of documents pertaining to Tong held by the National Archive ➚ at Kew.
Please be advised that many if not most of these records have not been digitised and are therefore not available to be viewed online. In such cases it is usually possible to view by booking a visit to the National Archive.
E321/46/153 Tong College – Very badly stained and unreadable in parts. The king v. George Stevynson Ex parte the king: possession of Tong college ➚
C1/17/291 Trussell Legal dispute with Richard Eyton Tong College 1386-1486 – A single sheet on vellum. Poor handwriting. William Trussell, knt. v. Sir Richard Eyton, warden of Tonge College, and confessor, &c. to Dame Isabel, late the wife of Sir Fulke of Pembridge. : Right to the manors of Acton Trussell, Cublesdon, and Sheriff Hales , &c.: Stafford. 1386-1486 ➚
C1/364/22 Dispute between almsmen of Tong and former warden of College 1500-1515 – A single sheet on vellum. The thirteen poor men of the almshouse of Tong. v. John Forster, administrator of the goods of John Lee, priest, late warden of the college of Tong.: Money contributed by inmates on their admission to the almshouse and entrusted for safe-keeping to the said warden by consent of its stewards and rulers.: Salop. ➚
MAF 32/640/186 Detailed MAFF analysis of what the farms are doing during the Second World War – About 100 pages. Farm Inventory 1943 ➚
IR 18/8312 Tithe Files for Tong (1837) – A detailed inventory of the estate with all lands and tenants listed – About 40 pages. Detailed income record 1837 for the Tong Estate ➚
PROB37/1529 Legal contest of the Durant Will (1846-1848) – Dispute between beneficiaries – About 300 pages. Thomson and Baxter v Hempenstall Testator or intestate: Durant, George of Tong Castle, Salop., esq.
J90/1312 and J90/1313 Legal contests over the bankruptcy of George James of Shackerley (1865-1867) – About 800 pages. Also concerns the Durant family. Cause: Brookes v Jones, Corser v Jones, Corser v Staffordshire Joint Stock Bank, Brooks v Barker, Deeds and papers relating to property in Shifnal forges and Tong manor, castle and rectory, SALOP, including printed particulars of sale, with map, of Ruckley Grange in Shifnal and Tong; evidence of descent of Durant family; of George James, iron-master, of Shakerley, SALOP., deceased ➚
SP 46/175/fo 1A Henry Vernon claim on Richard Ludlow inheritance 1499 – A number of single sheets on tattered and stained parchment. Note that Sir Henry Vernon that day received all the lands of Sir Richard Loudlowe in the counties of Hereford and Shropshire to the use of Thomas Vernon and Anne his wife and Humphrey Vernon and Alice his wife and their heirs forever ➚
ED 21/14939 School inspection (1871-1914) – A number of documents concerning Tong School mainly from the 1910 to 1929. Ministry of Education and predecessors: Public Elementary School Files ➚
T164/186/1 Charles II flight claim for annuity (1938) – Papers supporting claim for payment of annuity for assistance given to Charles II by Robert Bird. Claim by Mr Bird for annuity granted by King Charles II to Robert Bird of Tong ➚
IR 30/29/319 Tithe Map for Tong (1796) – Detailed map of parish showing land ownership. Tithe Map for Tong ➚
E117/10/41 Tong College : Exchequer report on Goods Inventory c.1555 – An inventory of the contents of Tong College at the time of dissolution. Tong College : Exchequer report on Goods Inventory c.1555 ➚
PROB20/2052 Will of Gervaise Pierrepont (1720) – A bundle of documents relating to the lands owned by the Duke of Kingston. Wills and Letters of Administration ➚
SP 46/181/102 Vernon monument description – A small, damaged scrap of vellum , pre-dates Dugdale's later description. Note of monuments to the Vernon family and their inscription at Tong 16th Century ➚
C1/887/23 Dispute with the warden of Tong College. – Very damaged with much of top and right missing or totally indecipherable. Thomas Skrymsher, gentleman. v. Custance …, the warden of St. Bartholomew's college, Tong ➚
C 47/7/3/3 Dissolution of Tong College (1547) – Short vellum mentioning Tong and Bakewell Collegiate church and Vernon's chantry in Tonge, Salop; St Mary's chantry in Bakewell, Derby ➚
C 143/442/14 Foundation of Collegiate Church by Isabel Pembrugge c. 1400 – Five neat pieces of vellum written in Latin. Isabel late the wife of Fulk de Penbrugge, knight and Walter Swan and William Mosse, clerks ➚
C205/19/12 Seizure of White Ladies 1690 – Very poor condition Seizure of White Ladies Priory ➚
C1/1328/8 Dispute over land lease (1553-1555) – One sheet of vellum in reasonably good condition Ralph AGARDE v. George VERNON, knight, and Robert FORSTER.: Refusal to complete a lease of a close of pasture in the lordship of Tong.: SALOP. Dispute between Richard Agarde and George Vernon over lease 1553-1555 ➚
C1/761/17 Dispute between William Coffyn and George Vernon over manors (1532-1538) – Document badly damaged and mutilated William Coffyn and Margaret his wife, versus George Vernon ➚
E5/18/7 Lease of Lizard Grange from Lilleshall Abbey to John Milton 1565 – Damaged sheet of vellum. Bills. Cover, Lease of Lizard grange from Lilleshall Abbey to John Milton ➚
ED49/6428 Duke of Kingston Setting up of Tong School 1805 Elementary Education Endowment Files ➚
Shropshire Archive
The Shropshire Archive ➚ at Shrewsbury have a great deal of information about Tong, you can search the archive online. Here are some of the papers available:
1781/2/446 Printed illustrated particulars of sale and plans of the Tong Castle Estate.
1781/4/70 No. 1781/1 plan and section of an intended improvement in the Albrighton Turnpike Road, near Tong.
1781/4/71Plan of the road from Kingswood to Hales Heath from Weston to Newport of Sheriffhales Common, through the parishes of Boningale, Albrighton Donington, Tong, etc. etc.
1781/5/59 Notebook of Daniel Jones on the local history of Donington including a copy of a manuscript account of Donington written by the Rev. Joseph Dale in 1848, lent to Daniel Jones by Miss Dale, Joseph's sister, in March 1867. Cuttings. At the other end, copy of a book at the Vicarage – description of the monuments in Tong Church.
4629 Records of the Bridgeman Family
4629/1/1874/41 Letter to William Clive from Bridgeman
4629/1/1876/61 Bishop coming to open Church on 4 Jan. Mr. Lawrence sent his bat in a leathern cover to W.C.B. when he left. Uncle Newport has given the living at Tong to Mr. Wilson.
4629/1/1878/67 Had successful harvest thanksgiving – raised nearly £12. Report of cricket match Weston v. Tong.
5735/9 Album of photographs of the Brooke family from about 1860-90; also of their friends and relations such as Rev. Robert Eyton and Robert Aglionby Slaney; also views of Haughton Hall and other Shropshire houses such as Condover Hall, Woodcote Hall and Tong Castle.
DP339 From the Trent Valley Railway at Lichfield to Shifnal, with junctions with "Shrewsbury and Birmingham Railway" and "Shrewsbury and Grand Junction Railway" and also junction with the "Shrewsbury, Wolverhampton, Dudley and Birmingham Railway" in the parish of Tong.
HB1/I/1 Albrighton and Tong Turnpike Trust
P94/V/1/4 O.S. map of Tong & part of Boscobel. Shropshire sheet XLIV N.E. First edition
P281/B/3/3 Bundle of letters relating to Tong church restoration: mainly correspondence between Lord Bradford, Weston, and others and the Rev J H Courtney-Clarke. Architect: Mr Ewan Christian, 8a Whitehall Place, London. Work carried out by Wm. Bowdler of Shrewsbury, builder. Bundle includes letters and plan from Joyce of Whitchurch re church clock; and correspondence re chancel window restoration by Pepper & Boyes, stained glass painters, Euston Road, London.
P281/B/3/4 Architect's plans and sketches of the interior and exterior of Tong church.
P281/E/3/1 Notebook with sketch maps of parish, houses numbered and names of occupants listed. Lists of church officers, invalids who have private communion, Tong school managers, school and charity trustees, charity beneficiaries, local tradesmen [Prepared for the benefit of a new incumbent?].
P281/P/1/1 Copied (by John Boden) from a manuscript by the Rev R G Lawrence (Vicar of Tong from Oct 1870 to Oct 1876). Includes notes on Tong church, its monuments and tombs, parish charities and the Durants of Tong etc. (The other end has been used as an arithmetic book)
P281/R/2/6 Report by H M Inspectors on Tong Parochial School.
P281/U/1/1 Has been used as a scrapbook – press cuttings, Boer War and political cartoons c. 1900-1918, and local Tong news. Also photographs (mainly Tong area). Book apparently compiled by G H Boden with the back pages used as a child's school rough work book.
P281/V/2/2 Map of Tong parish 1759
1781/2/439 Letter from Celeste Durant
1781/4/65 Docketed: Map number 3; No. 1781/3 Exchange with G. Durant Esq. in order to straighten brook. Map number 3 describing the land purchased from Lord Stafford in 1831, showing course of the brook.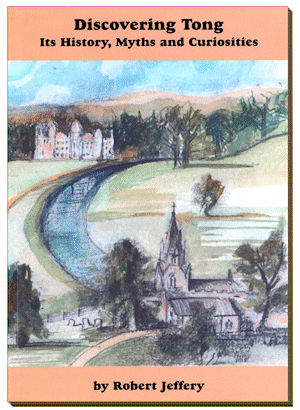 Would you like to help us?
The Tong Vision for 2020 and beyond had a target to raise £500,000 over 3 years in order to fund urgent and
essential restoration work, and to ensure that all visitors and congregations can continue to enjoy this unique building! If you can
offer your support either financially, in-kind or otherwise, please contact Revd Pippa Thorneycroft ( pippa.thorneycroft@icloud.com ) or
the Vission2020 "Support Us" page on this web site, or visit our JustGiving page by clicking on the image, below.

A big thank you to all our supporters! Particular thanks go to the following:

Events information:
Tel: 07970 869011
Parish Administrator:
(Weddings. Baptisms etc.)
Wendy Aykroyd
admin@shifnalbenefice.org.uk
Find us on Facebook:
If you have visited us, for whatever reason, we would really appreciate it if you would visit our Facebook page and leave a comment, review or a picture or two!
Facebook link
Would You Like To Support Us?
The Tong Vision for 2020 and beyond has a target to raise £500,000 over the next 3 years in order to fund urgent and
essential restoration work, and to ensure that all visitors and congregations can continue to enjoy this unique building!
If you can offer your support either financially, in-kind or otherwise, please contact Revd Pippa Thorneycroft (pippa.thorneycroft@icloud.com) or visit our JustGiving page by clicking the image, below.

At present there are no toilet facilities at Tong Church. For an organised tour and at weddings, baptisms and funerals as well as Sunday services, access to the Parish Hall (two minutes walk) is available. For concerts and fêtes we usually provide portaloos.
If you find it difficult to walk up the slope to church to attend services please let us know by sending someone ahead or Tel: 07970 869011 and we will provide assistance. We regret that we are unable to offer this support during the week for visitors.