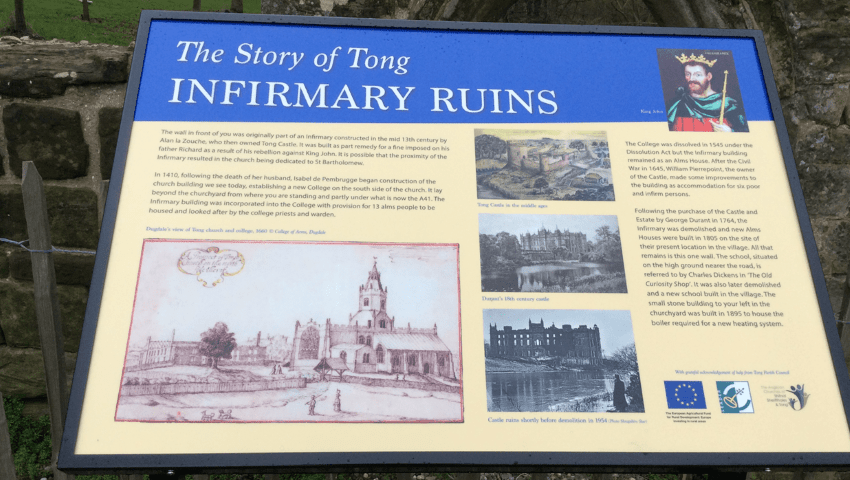 St Bartholomew's, Tong
Vision 2020 Support
How you can help
Our Vision 2020 project is well underway and as you will have seen from the related pages on this site a great deal has already been achieved.
The work goes on, however, and is costly in terms of time, effort and of course, money. Below you will see a few examples of some of the on-going projects that your donations can help with.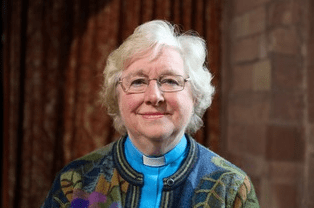 The Revd Preb
Pippa Thorneycroft,
Minister – in – Charge
St Bartholomew's Church, Tong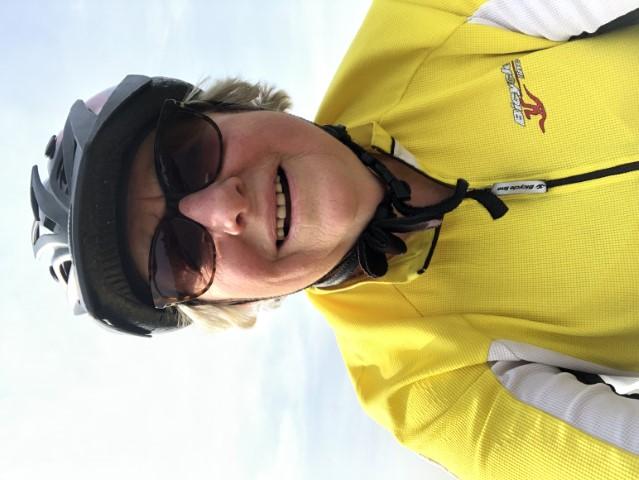 Ride and Stride!
Each year we take part in "Ride and Stride" in support of the Shropshire Historic Churches Trust. You can learn about this important Trust and the work it does by following this link.
Although muscles have long since recovered from the 2022 event you can still donate to this very worthy cause by clicking on our Ride and Stride JustGiving link.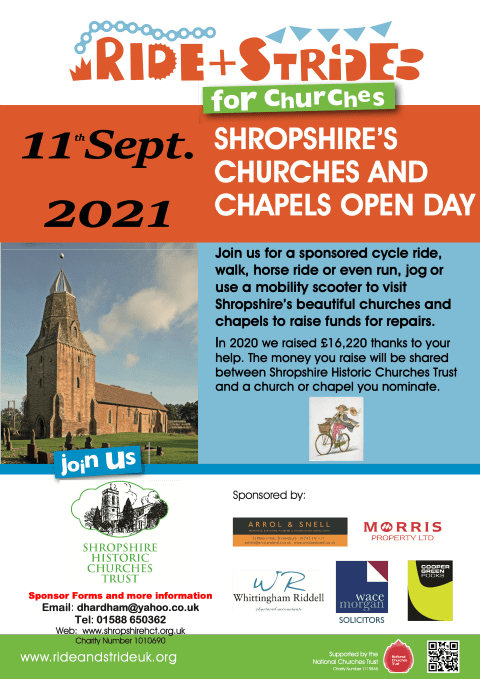 Vision 2020 – current projects in need of funds
There is a wide range of ways that your support can help us. Your contribution could go towards repairing and protecting our stained glass windows for the benefit of future generations, restoring one of our many treasures (see the Heritage pages on this web site) or one of the many other structural repairs that are constantly needed in this 600 year old building.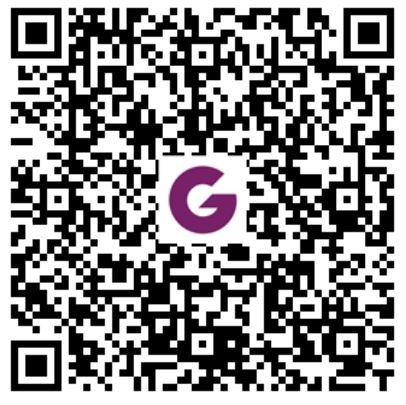 You can also access our JustGiving page by scanning the above QR code.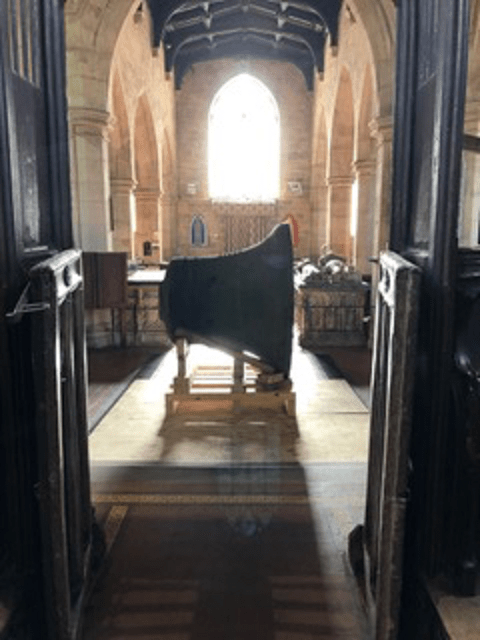 A major faith and fundraising effort
Tong Twenty Twenty Vision has a target to raise £1,000,000 in order to fund both urgent and essential restoration work, and to modernize facilities so that people of all ages and abilities can continue to enjoy this unique building.
In addition to the many private gifts and donations, both large and small, we are delighted to acknowledge the support received from the following.

➢ Allchurches Trust
➢ Arts Society Wrekin
➢ Edward Cadbury Charitable Trust
➢ Drapers' Company
➢ P B Dumbell Trust
➢ WE Dunn Trust
➢ Headley Trust
➢ Ironmongers' Company
➢ Beatrice Laing Charitable Trust
➢ The Leche Trust
➢ Leathersellers' Company
➢ Diocese of Lichfield
➢ Listed Places of Worship Roof Fund
➢ Millichope Foundation
➢ Ratcliff Foundation
➢ Rowlands Trust
➢ Sharpe Trust
➢ South Shropshire Rural Development Fund
➢ Wolfson Foundation
➢ GJW Turner Trust
➢ Idlewild Trust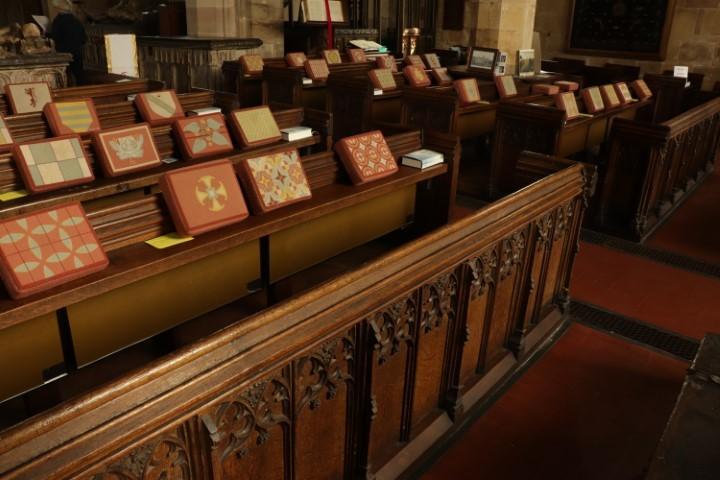 Tong Church has everything
But don't take our word for it. Join us on a tour of our beautiful church….
We are able to offer a conducted tour of our famous, beautiful church. This ancient building was dedicated in 1410, and is held to be one of the finest examples of a church built in perpendicular style in the country.
Our tour lasts for about an hour, during which time you will see the famous Golden Chapel, our unique collection of magnificent medieval tombs and carved effigies. You can explore our historical links with Charles Dickens, William Shakespeare and not forgetting little Nell!
And, not for the faint hearted, try a tour of the tower. You will see one of the largest bells in the country! Nowadays, due to Health and Safety concerns regarding the very worn spiral steps and extremely limited space we only let visitors up the tower at their own risk and make them sign a disclaimer, but Bell ringing enthusiasts are often still keen to visit.
Events information:
Tel: 07970 869011
Parish Administrator:
(Weddings. Baptisms etc.)
Wendy Aykroyd
admin@shifnalbenefice.org.uk
Find us on Facebook:
If you have visited us, for whatever reason, we would really appreciate it if you would visit our Facebook page and leave a comment, review or a picture or two!
Facebook link
Would You Like To Support Us?
The Tong Vision for 2020 and beyond has a target to raise £500,000 over the next 3 years in order to fund urgent and
essential restoration work, and to ensure that all visitors and congregations can continue to enjoy this unique building!
If you can offer your support either financially, in-kind or otherwise, please contact Revd Pippa Thorneycroft (pippa.thorneycroft@icloud.com) or visit our JustGiving page by clicking the image, below.

At present there are no toilet facilities at Tong Church. For an organised tour and at weddings, baptisms and funerals as well as Sunday services, access to the Parish Hall (two minutes walk) is available. For concerts and fêtes we usually provide portaloos.
If you find it difficult to walk up the slope to church to attend services please let us know by sending someone ahead or Tel: 07970 869011 and we will provide assistance. We regret that we are unable to offer this support during the week for visitors.
St Bartholomew's Church, Tong is committed to Safeguarding and has adopted the National and Diocesan Safeguarding Policies. Our Safeguarding Coordinator is Lisa and she can be contacted on 07535 159421.