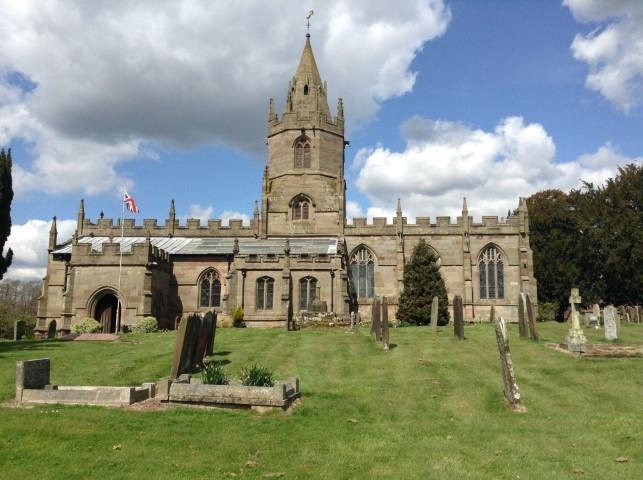 St Bartholomew's, Tong
Church Tours
Please note: conducted tours of the church are only available during British Summer Time.

---
Take a conducted tour of our famous, beautiful church.
This ancient building was dedicated in 1410, and is held to be one of the finest examples of a church built in perpendicular style in the country. The tour lasts for about an hour, during which time you will see the famous Golden Chapel; our unique collection of magnificent medieval tombs and carved effigies. You can explore our historical links with Charles Dickens, William Shakespeare and not forgetting little Nell!
And, not for the faint hearted, try a tour of the tower. You will see one of the largest bells in the country! Nowadays, due to Health and Safety concerns regarding the very worn spiral steps and extremely limited space we only let visitors up the tower at their own risk and make them sign a disclaimer, but Bell ringing enthusiasts are often still keen to visit.
Saturday tours at 11:00 on the first Saturday of each month.
Please Note:
Wheelchairs can get into the church and there is a ramp to access the chancel. There is a wheelchair ramp into the village hall.
Costs (payable on the day):
Tour only £5.00 per person
Tour with Lunch (2 courses & Tea/Coffee) £14.00 per person
Tour with Afternoon Tea £12.00 per person
Tour with Supper (2 courses & Tea/Coffee) £14.00 per person
We can also provide refreshments if your group wishes to visit our church without a guide as follows:
Lunch/Supper (2 courses & Tea/Coffee) £9.00 per person
Afternoon Tea £7.00 per person
Tea and Coffee with Biscuits £1.50 per person
Please contact Mrs Christine Deane on 01902 741356 with any queries
Events information:
Tel: 07970 869011
Parish Administrator:
(Weddings. Baptisms etc.)
Wendy Aykroyd
admin@shifnalbenefice.org.uk
Find us on Facebook:
If you have visited us, for whatever reason, we would really appreciate it if you would visit our Facebook page and leave a comment, review or a picture or two!
Facebook link
Would You Like To Support Us?
The Tong Vision for 2020 and beyond has a target to raise £500,000 over the next 3 years in order to fund urgent and
essential restoration work, and to ensure that all visitors and congregations can continue to enjoy this unique building!
If you can offer your support either financially, in-kind or otherwise, please contact Revd Pippa Thorneycroft (pippa.thorneycroft@icloud.com) or visit our JustGiving page by clicking the image, below.

At present there are no toilet facilities at Tong Church. For an organised tour and at weddings, baptisms and funerals as well as Sunday services, access to the Parish Hall (two minutes walk) is available. For concerts and fêtes we usually provide portaloos.
If you find it difficult to walk up the slope to church to attend services please let us know by sending someone ahead or Tel: 07970 869011 and we will provide assistance. We regret that we are unable to offer this support during the week for visitors.
St Bartholomew's Church, Tong is committed to Safeguarding and has adopted the National and Diocesan Safeguarding Policies. Our Safeguarding Coordinator is Lisa and she can be contacted on 07535 159421.